Aluka is a not-for-profit international collaboration of educational and cultural institutions, … [intended] to build a high-quality scholarly resource of materials from and about Africa.' Subject areas include African cultural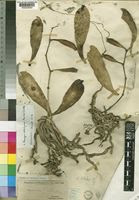 heritage sites and landscapes; African plants; and struggles for freedom in Southern Africa.
Content includes photographs, 3D models, GIS data, and rock art images linked to contextual materials such as excavation reports, manuscripts, travelogues, maps, site plans, scholarly research; Specimens of African plants linked to a wide range of related images and data, including photographs, drawings, botanical art, field notes, published flora, and other reference works; Documentation of the liberation struggles in Botswana, Mozambique, Namibia, South Africa, and Zimbabwe, including archival materials, periodicals, oral histories, books, and photographs.
Aluka is a magnificent database. Of particular interest is the African Plants section. This set of digital materials now has over 280,000 objects in 21 collections, including plant specimens, photographs, art, reference works, and archival records of historical expeditions to Africa. The content will be of interest not only to botanists, but also to students and researchers in many related academic disciplines, including ecology, ethnobotany, history, biology, anthropology, economic development, and environmental studies.
For the period 1 February – 30 June 2006 CSU students and staff have free access the Aluka. Access is available via the CSU Library's Database trials page.