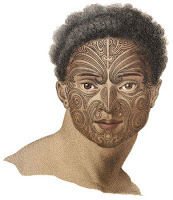 Check out this
great website
,
Voyages of discovery – the Great South Land
from the State Library of NSW. Read Joseph Banks' Endeavour and Abel Tasman's journals, Bligh's notebooks and many other important texts in their original format (use your mouse to turn the pages), view a gallery of stunning maps and images, have a close look at mementoes from Cook's travels.
Also check out the beautiful
online catalogue
for the exhibition
Bound for Glory: exquisite books of French Pacific Voyages.
The illustrations are sumptuous. (
Image – A New Zealanderhand-coloured engraving in Louis de FreycinetVoyage autour du monde … Atlas Historique … [by] J Arago, A Pellion …Paris, Pillet aîné, 1825 DL F82/1)