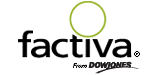 Factiva's coverage of the Australian Financial Review will change from April 1, 2007. Full text coverage of content will cease, and Factiva will only contain abstracts for this publication.
As a result of this decision by Fairfax Business Media, Factiva is also required to delete the archives for all Fairfax Business Media sources: Australian Financial Review, BRW, Financial Review Smart Investor, MIS, CFO, Asset plus the discontinued sources Shares and Personal Investor.
The abstracts for the Australian Financial Review will be available by 07.30 AEST time each publication day and the abstracts for the other titles, on the same day of publication. Coverage will start with a three month archive of abstracts.
The withdrawal of the full text of the Australian Financial Review content is a commercial decision by the publisher, Fairfax Business Media. There will be no change to other Fairfax titles, including the Sydney Morning Herald and The Age. These will update in full text as normal.
The print version of the Australian
Financial Review
is received daily at the Bathurst, Wagga, Orange and Thurgoona campus libraries. The Wagga library has a microfilm archive from 1975. Please check the
Library catalogue
for holdings of the other Fairfax Business Media publications.