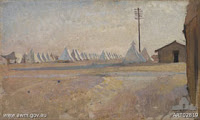 The Australian War Memorial has developed a great blog for the exhibition George Lambert – Gallipoli & Palestine landscapes which can be accessed here.
This exhibition traces George Lambert's work through his first journey to Palestine and the Sinai in 1918 and includes paintings he completed during the Australian Historical Mission to Gallipoli in 1919.
In just over 18 months, Lambert produced 99 small panel paintings, and hundreds of drawings and sketches of Gallipoli and Palestine. Concentrating on landscapes, the Memorial exhibition provides a unique insight into two very different, yet powerfully evocative, landscapes that moulded the experience of Australians in the First World War. (AWM – publicity)
The exhibition will be travelling to a number of Australian cities later in the year – Bendigo, Toowoomba, Gymea, Melbourne and Gosford.