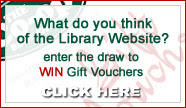 Tell the CSU Library team what you think of CSU's Library web site. Fill out our survey and enter to WIN 1 of 5 x $50 Coop Bookstore Gift Vouchers, 1 x $50 book voucher from Chapters Bookshop (for students based at CSU's Ontario campus). This survey is a follow-up to the Library survey conducted in 2006. The survey identified that there are problems with the website that need to be addressed, but the Library team need more information and detail about your experiences using the Library's web site. We need to know:
What works?
What annoys and frustrates you?
Is the catalogue easy to use?
Is there too much jargon on our web site?
Can you find what you need?
How can the web site be improved?
The CSU Library team will also be conducting usability testing with groups of internal and distance education students. Would you like to be involved? See the survey for information on how to volunteer. Thank you for participating in this survey and don't forget to enter the draw for a Coop Bookshop voucher or a Chapters Bookshop voucher(for students based at CSU's Ontario campus. The survey is located here.