"World Environment Day, commemorated each year on 5 June, is one of the principal vehicles through which the United Nations stimulates worldwide awareness of the environment and enhances political attention and action.

The World Environment Day slogan selected for 2007 is Melting Ice – a Hot Topic? In support of International Polar Year, the WED theme selected for 2007 focuses on the effects that climate change is having on polar ecosystems and communities, and the ensuing consequences around the world." Visit the World Environment Day site for more info.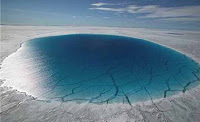 See the latest issue of CSU News for an interview with CSU Professor Kevin Parton who "believes that there is a need to get the correct prices for natural resources such as water or greenhouse gases.
It doesn't matter which party wins the next election, the time to start carbon taxes or a water permit system is now if we are going to affect climate change and solve the water crisis.
Two big issues that have pricing problems right now are water and greenhouse gas emissions. Good' water is under-priced, and the 'bad' emissions of greenhouse gases are allowed to occur at too low a price. Consequently, we have a shortage of the first and an oversupply of the second. In both cases trading schemes have been proposed to get the prices right."