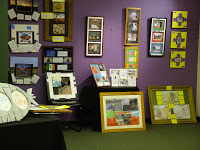 The Voice of Imagery is an exhibition on show in the Wagga library foyer.
This exhibition will test your senses on everything in creative art and literature. 3rd year primary education students have used photography and literature to create photo stories using sound, colour and animation in still images. These images have been annotated to demonstrate cultural awareness inclusive of children in the classroom with different abilities and cultural and class backgrounds.
The importance of displaying student works in a pleasing and aesthetic way is also an important part of the exhibition.
The Voice of Imagery will be opened on Thursday 14th June at 5:30pm by Damian Candusso, who was one of the animators for the Academy Award winning Happy Feet.
The exhibition is there for all to see until 4th July, so don't miss out.