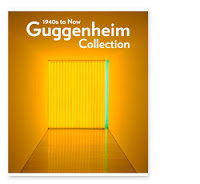 The exhibition Guggenheim Collection: 1940s to Now has just opened at the National Gallery of Victoria. Check this site for details about the exhibition, images, an overview of the exhibition's themes and info about the Guggenheim Foundation. CSU Library has ordered the exhibition catalogue.
CSU Library has a number of publications about the Guggenheim collection and museums, and Guggenheim exhibition catalogues including:
Check the CSU Library catalogue for location details.