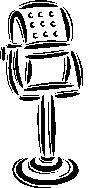 The library has released the first of a series of podcasts designed to inform staff and students about services offered by the library, library resources and library news.
To listen to the podcasts all you need is a computer and an internet connection. You can choose to either download the podcasts to your MP3 player or listen to them online.
To check out our Library podcasts, use the podcast link on the library homepage
Library staff are also interested in what you would like to hear about in our podcasts. Future podcasts will cover services for D. E. students, ways to contact us, borrowing tips, internet searching and electronic books. If you have a great idea for a library podcast, post a comment and let us know!