The second installment in our new series of podcasts is now live.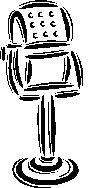 This episode looks at services for Distance Education students: ever wondered exactly what the library can do for you as a Distance Education student but don't have time to search our website? This podcast is just for you!
To listen to the podcasts all you need is a computer and an internet connection. You can choose to either download the podcasts to your MP3 player or listen to them online.
To check out our Library podcasts, use the podcast link on the library homepage. We want to know what you want to hear about in our podcasts, so if you have any ideas for future podcasts, post us a comment and let us know!