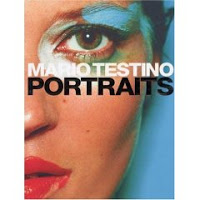 CSU Library has a good collection of photography books (print and online), journals, DVDs and videos. Great resources for fine art, multimedia, communication and graphic design students; and anyone else with a passion for photography. Titles include:
The Digital Photography Book: The Step-By-Step Secrets for How to Make Your Photos Look Like the Pros'! (eBook – available through CSU's Safari subscription)
Portraits: photographs from Europe and America by Helmut Newton; with an introduction by Carol Squiers
Bailey's democracy by David Bailey; introduction by Desmond Morris
La vida brinca, a book of tragaluz photographs by Bill Wittliff; with introductory essays by Elizabeth Ferrer & Stephen Harrigan
War photographer produced, directed and edited by Christian Frei (DVD)
William Christenberry, foreword by Elizabeth Broun ; essays by Walter Hopps, Andy Grundberg, and Howard N. Fox
Mario Testino: portraits edited and written by Patrick Kinmonth
Diane Arbus: a biography by Patricia Bosworth
The Digital SLR Guide: Beyond Point and-Shoot Digital Photography (eBook – Safari)
How Digital Photography Works, Second Edition by Ron White (eBook – Safari)
Preventive Photoshop: Take the Best Digital Photographs Now for Better Images Later by Douglas Ford Rea (eBook – Safari)
Mastering color digital photography by Michael Freeman
Exposing nature : a guide to wildlife photography by Frank Greenaway
The Adobe® Photoshop® Lightroom™ Beta 4 eBook for Digital Photographers
by Scott Kelby (eBook – Safari)
Cooling towers by Bernd & Hilla Becher
Obsessions: the art of Bill Henson (Australian, video)
Faces of the living dead : the belief in spirit photography by Martyn Jolly
Margaret Michaelis: love, loss and photography by Helen Ennis (Australian, exhbition catalogue)
Michael Riley: sights unseen edited by Brenda L. Croft. (Australia, exhibition catalogue)Appointment with Sigmund Freud by Sophie Calle (exhibition catalogue)
The Photoshop® Elements 5 Book for Digital Photographers by Scott Kelby (eBook – Safari)
Check the CSU
new titles page
regularly for new photography resources – there are many titles including eBooks on order.