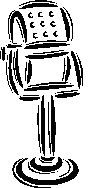 A new podcast episode is available now from the Library website's
Podcast page
.
This week we have 'Five Borrowing Tips' – Will library fines stop you from borrowing? Do you need a library card to borrow from the library? Can you borrow from a local University library? Listen in this week and find out!
To listen to the podcasts all you need is a computer and an internet connection. You can choose to either download the podcasts to your MP3 player or listen to them online.
If you have any ideas for future podcasts, post us a comment and let us know!