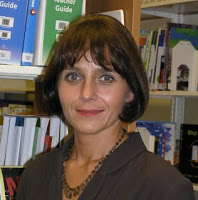 Ontario students! Have you met Nena, CSU's Ontario Librarian extraordinaire? Nena works Monday – Friday in the Ontario Library and is available to assist with your information and Library needs. Nena knows the Ontario Library collection like the back of her hand and is a whizz at showing you how to make the most of the online services and resources available via the CSU Library's website.
Nena does much of the purchasing of Library materials for the Ontario collection and welcomes your suggestions for new materials. Nena has also worked for the Halton District School Board Library and is very familiar with their resource collection.
Contact details for Nena are available
here
or just drop in and say hello.
The rest of the Library team in Australia are also available to help you, especially after hours. One good thing about being in different hemispheres is that the Australian Library team is available to answer questions and provide advice most hours of the Canadian night. So the next time you have a question at 2.00 am why not contact the Library team via the Library's
Ask a Question
help desk – we're awake!
Best wishes for your study from Nena and the rest of the CSU Library team.