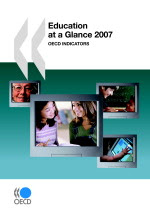 AUSTRALIA was the only developed country to cut public spending on tertiary education in the decade to 2004, according to a new world comparison. The funding reduction — down 4 per cent compared with an average OECD rise of 49 per cent — resulted in private spending on higher education, including students' tuition fees, surpass government funding.
By 2004 the Government paid 47.2 per cent of university revenue in Australia, compared with an OECD average of 75.4 per cent.
The OECD found private spending soared mainly due to students leaving university with a greater debt after the Federal Government lifted maximum HECS fees in 1997. Only the US, Japan and Korea charged students more for a public university degree. Australians paid an average $US3855 a year for university study. Conversely, one in three members of the OECD, all of them European countries, offer students free university tuition.
The OECD report "Education at a Glance", released last night, said charging students fees had not reduced university access for the less advantaged. It found Australia led the developed world for access to a degree.
Education Minister Julie Bishop said the OECD analysis was flawed because it counted HECS and government full-fee loans as money paid by students, and did not include the majority of vocational and technical education funding. It also did not include funding increases since 2004, including the $6 billion Higher Education Endowment Fund — part of $7.9 billion provided this year.
A Government report released yesterday showed Australian universities had a $15.5 billion revenue boom last year, up $1.6 billion — or 11 per cent — from 2005. "This result shows that our universities are in a healthy financial position, which places them on a sustainable footing for the foreseeable future," Ms Bishop said.
Read the rest of this article by Adam Morton and Farrah Tomazin in today's online edition of
The Age
newspaper.
Labor education spokesman Stephen Smith said the report showed Australia had the third highest private spending on education at 27 per cent, more than double the OECD average.
The report showed Australia had one of the lowest levels of public spending on schools, vocational education and universities combined.
"For the substantial period of the Howard Government there has been a lack of investment in the education skills and training of our people," he told ABC radio. "We are falling behind our competitors. We are behind OECD average levels and it underlines what Labor has been saying all this year which is we need to have an education revolution."

The report found Australia trailed behind only the US and Korea in private spending on education. The Federal Government was spending 4.3 per cent of gross domestic product (GDP) on public education compared with an average among 30 developed nations of 5.0 per cent, it found. This put Australia behind Mexico, Iceland, France, Finland, Belgium, Austria, Denmark, New Zealand, Norway, Britain and the US in public funding.
Chairman of the Group of Eight top Australian universities Professor Alan Robson said the growing level of private spending was worrying.
"While I think that students should make a contribution because they derive a private benefit, you have go to be careful as to what that point is," he said on ABC radio.
"I note that in the report our fees are now getting up amongst the highest in the world."
Australian Education Union national president Pat Byrne said both major political parties should take the report seriously. "The gap between high achievers and low achievers in our schooling system is significant in Australia and it is worse than many OECD countries," she said.
Read the rest of this article
here
.
The OECD publication
Education at a Glance 2007
is available
here
or access via the CSU Library catalogue.