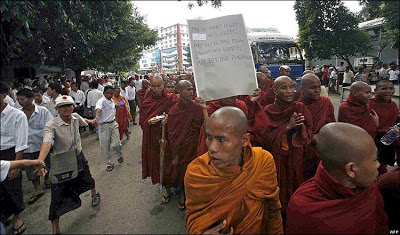 Young student bloggers are risking years in prison by breaking the junta's stringent internet controls to post descriptions and photos of the biggest anti-government protests in 20 years. Known as "citizen journalists", the students are leaking videos and photos mainly caught on mobile phones.

The Government heavily regulates every website that carries Burmese news or information, and bars access to web-based email and general internet use. Mobiles phones are expensive and difficult to obtain, further limiting communication.
Aung Zaw, editor of Irrawaddy, a news magazine for expatriate Burmese in Thailand, told The Age the bloggers and underground journalists were risking arrest in communicating with the outside world.
He said the magazine had several reporters in Burma who used the internet, email and mobile phones to send stories and images to Thailand. "It's a huge risk," he said. "We cannot identify them and must be extremely cautious because they could be imprisoned for sending information to us."
Read the rest of this article by Jane Holroyd and Daniella Miletic in today's online edition of
The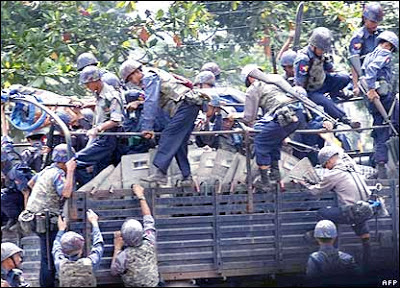 Age
.
Check out this blog
Yangon Thu
for a first hand account of what is happening in Burma (images in this post are from this blog). Also check
Burma Digest
– a bilingual magazine presenting a digest/analysis of human-rights conditions in Burma.
For more information on the Burma uprising check
Factiva
– for up-to-date Australian and International news and newspaper coverage. (CSU students and staff only)