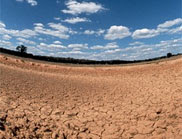 The most comprehensive assessment of climate change in Australia has predicted the country could be 5 degrees Celsius hotter and 40 to 80 per cent drier by 2070. The findings, released at the Greenhouse 2007 Conference in Sydney, indicate it is too late to avoid even hotter and drier conditions.
The joint assessment, Climate Change in Australia, says says cities like Adelaide, Perth and Darwin will see a significant increase in the number of days per year above 35 degrees by 2030.
It forecasts average temperatures will have risen by 1 degree by then from 1990 averages.

Later this century, warming of between 1 and 2.5 degrees is expected if greenhouse gas emissions are kept low, but a higher greenhouse gas emissions scenario could bring warming of as much as 5 degrees by 2070.
The study also foresees more frequent days of extreme high temperatures and reduced rainfall across the country due to higher greenhouse gas levels. It says eastern Australia will face 40 per cent more drought months by 2070, while south-western Australia will face 80 per cent more drought months. The assessment has found average temperatures in Australia have increased, the surrounding oceans have warmed and sea levels have risen since 1950.
Find out more about the report including a summary of the findings
here
. Access the full CSIRO report
Climate change in Australia
here
or via the
CSU Library catalogue
.