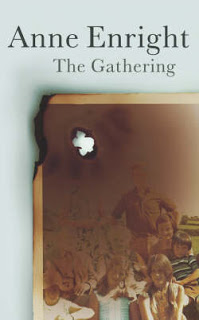 The Gathering by Irish writer Anne Enright has won the 2007 Man Booker Prize for Literature.
We found it a very powerful, uncomfortable and even at times angry book", chairman of the judges Howard Davies said after picking one of the rank outsiders from the short list. "It is an unflinching look at a grieving family in tough and striking language," he told reporters after the judges spent two and a half hours closeted together picking the winner of the 50,000 pounds sterling ($100,000) prize.
Enright herself has described the book as "the intellectual equivalent of a Hollywood weepy".
"When people pick up a book they may want something happy that will cheer them up. In that case, they shouldn't really pick up my book," she has admitted.
It tells the tale of the nine surviving children of the Hegarty clan who gather in Dublin for the wake of their wayward, drink-fuelled brother Liam and relive a dark secret from his boyhood.
Read the rest of this article in today's online edition of
The Age
.
More information about the Booker Prize is available
here
.
The Gathering
and the other shortlisted novels are available from your CSU Library. Check the
Library catalogue
for location details.