A new podcast episode is available now from the Library website's Podcast page.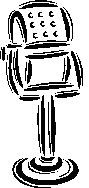 Are you a student on CSU's Ontario campus, or perhaps you're just interested in what is available at this exciting new site? The Library's latest podcast is all about what is available to
Ontario students within and beyond the walls of the Ontario campus Library.
To listen to the podcasts all you need is a computer and an internet connection. You can choose to either download the podcasts to your MP3 player or listen to them online.
If you have any ideas for future podcasts, post us a comment and let us know!