The Librarians Starts Wednesday 31 October @ 9.30pm on ABC
"If you miss the start time, a fee will be incurred"
Frances O'Brien, Head Librarian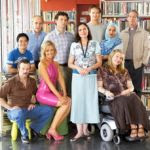 Frances O'Brien, devout Catholic and panic disorder sufferer, runs a very tight ship as Head Librarian at the Middleton Interactive Learning Centre. Her life unravels when she is forced to employ her ex-best friend Christine Grimwood, now facing criminal charges, ­ as the Children's Librarian. Suddenly, long buried feelings that Frances has suppressed since she last saw Christine nineteen years ago, rush at her like a truck. She must do all she can to contain her menacing past and concentrate on the biggest event of the Library calendar year ­ Book Week.