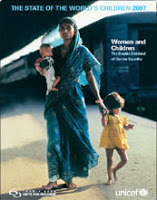 The landmark Global Conference, Women Deliver, was held in London, October 18-20, 2007. The theme was Invest in Women: It Pays.
Every minute of every day, a woman dies needlessly during pregnancy or childbirth, most in the developing world.
Major political and public figures, health professionals, social scientists and advocates for women's rights who are engaged in education, poverty reduction, human rights, gender issues, sexual and reproductive health, HIV/AIDS, nutrition, environment and child health were brought together with a focus of reducing maternal and newborn mortality and improving the health of women, mothers and newborn babies around the world. For reports, research, conference background papers and more information click here
The UK Government pledged £100 Million to the United Nations Population Fund, to achieve universal access to reproductive health. They called on world leaders to cut maternal deaths.
The Government of Japan intends to place global health at the centre of next year's G8 Summit in Toyako, Japan in July 2008.
The CSU Library will shortly have the special issue of The Lancet which focuses on the "Women Deliver" conference – Volume 370, October 13, 2007 at CSU – Bathurst – P610 7
Click here for comments and articles on Delivering for Women