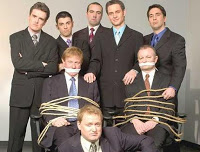 During this year's federal election campaign, abc.net.au is running SLEDGE, a competition to find the next generation of satirical talent. The best satire will feature on abc.net.au, with the winner getting to spend a week behind the scenes with the Chaser team. And, if your contribution is a real stunner, it may even make it on to jtv!
Remember political sledging is an equal opportunity sport. All sides are fair game.
Go to the
SLEDGE website
to find out how to enter, or check out some of the videos that have already been submitted.