Click here to have a look: Inside a Dog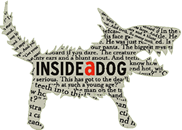 This is a website for young (and young at heart… or those who refuse to grow up!) people about books. Here you can:
read and write reviews
meet our online author-in-residence
win stuff
preview upcoming titles
read interviews with authors
keep up to date with all the latest bookish news
listen to podcasts and audio Chapter Ones
talk about books on the forum
Insideadog is a project of the Centre for Youth Literature, State Library of Victoria.