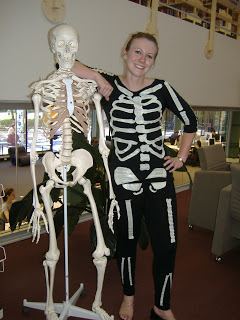 One of our students made use of our skeleton, Stanley, for her presentation at her Creative Arts course with Dr Klopper at the Bathurst Campus. As can be seen, Christie has dressed cleverly to match Stanley, although Stanley was probably jealous of her 'glow-in-the-dark' ribs!
Stanley lives a quiet life in the library and isn't allowed to go out to parties. He is limited to a 2 day loan, and obviously jumped out of his skin to have the opportunity to rattle his bones with a human counterpart.
Stanley was returned to the Library in good skeletal health after his adventurous trip outside.