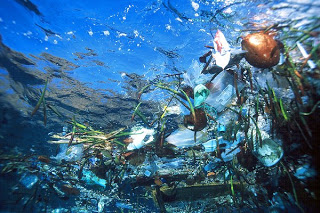 A "plastic soup" of waste floating in the Pacific Ocean is growing at an alarming rate and now covers an area twice the size of the continental United States. The Independent reports that the vast expanse of debris – in effect the world's largest rubbish dump – is held in place by swirling underwater currents. This drifting "soup" stretches from about 500 nautical miles off the Californian coast, across the northern Pacific, past Hawaii and almost as far as Japan.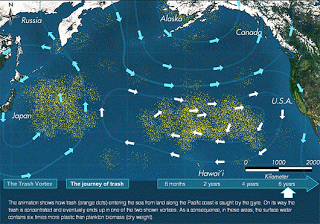 The "soup" is actually two linked areas, either side of the islands of Hawaii, known as the Western and Eastern Pacific Garbage Patches. About one-fifth of the junk – which includes everything from footballs and kayaks to Lego blocks and carrier bags – is thrown off ships or oil platforms. The rest comes from land.
Steve Connor in his article in The Indendent,
Why is plastic the scourge of the sea?
documents the disastrous impact of plastic on the oceanic food chain. He argues that
the only way to deal with the growing threat plastic poses to wildlife and the environment is to curb our consumption and to no longer treat plastic as an innocuous disposable commodity. Indeed, there is now a case for it to be treated as a potentially toxic waste product with the stiffest sanctions for its desultory disposal.