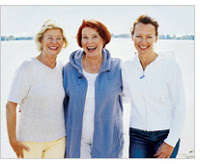 There will be a live panel discussion broadcasting live on Tuesday 11 March 2008, between 9.00-10.00am, in celebration of International Women's Day. Special guest speakers will include:
Geraldine Doogue, renowned journalist and broadcaster in news and current affairs
Sharan Burrow, President ACTU
Professor Barbara Pocock, Director Centre for Work + Life at University of South Australia
Dr Marion Baird, Associate Professor, Work and Organisational Studies and Convenor Women and Work Research Group, University of Sydney
Dr Dale Spender, feminist writer and commentator
You can access the live broadcast from the ABC website. More information about access to the live broadcast and later access to downloading the podcast will be available on the Office for Women website – International Women's Day page.