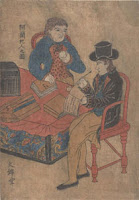 The UCSF Library's collection of Japanese woodblock prints illustrates a wide variety of health-related topics. The prints provide a window into traditional Japanese attitudes toward illness, the human body, women, religion, and the West, and offer a visual account of Japanese medical knowledge in the late Edo and Meiji periods. The majority of the prints date to the mid-late nineteenth century, when Japan was opening to the West after almost two hundred and fifty years of self-imposed isolation.
The collection is of interest to scholars of Asian medicine, the history of medicine, Asian religion and Japanese art. It has attracted the interest of health care practitioners, especially those interested in Traditional Chinese Medicine or Complimentary/Alternative Medicine.
Click here for more information.