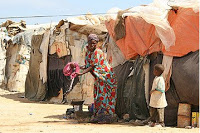 Refugee camps almost by definition have limited visibility. Often located in places that are hot, flooded, or at war, such camps go unseen by most of the world except for the occasional crisis segment on the evening news. Now, the office of the UN High Commissioner for Refugees (UNHCR) hopes to give more visibility to the work that it does in such camps around the world, bringing the reality of refugee life into the laptops and living rooms of web surfers thanks to the power of Google mapping tools.
The "Google Earth Outreach" programme gives UNHCR and other humanitarian agencies the ability to use Google Earth and Maps to highlight their work on behalf of millions of refugees and other populations of concern in some of the world's most remote and difficult areas. The agencies can overlay text, audio and video information onto Google Earth in layers, enabling them to explain and illustrate their humanitarian work to a worldwide audience.
To see, hear and develop an emotional understanding of what it is like to be a refugee, go to the
UN Refugee Agency
website.