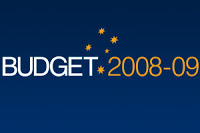 Treasurer Wayne Swan delivered the first labor budget in more than a decade. The 2008-09 Commonwealth Budget can be viewed here
The Budget Overview and the Budget Speech are available as well as Portfolio Budget Statements. Whilst the Greens view the Budget as a big letdown, a leading educator has praised the Budget.
Professor Ian Chubb, vice-chancellor of the Australian National University, said universities were finally receiving the funding for infrastructure they had needed for so long.
The $5 billion education infrastructure fund would help universities compete in the international market for talent.
He welcomed the extra places for students and praised the government for keeping its election promises.