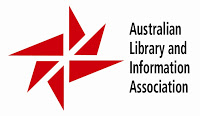 Next week – 19 May – 23 May – is Library and Information Week. The theme is "Libraries are for everyone."
The local regional ALIA group, ALIA Riverina, is partnering with other local organisations – Albury LibraryMuseum, Arts Rutherglen, and Friends of Wodonga Library – in bringing Wendy Harmer to the Albury-Wodonga region for a series of Library Week activities, including a public dinner at which Wendy will be the guest speaker.
Wendy Harmer began her career as a political journalist but is now a well-known comedienne, broadcaster, and writer. She has written six books for adults, two plays, and the libretto for Baz Lurhmann's Opera Australia production of Lake Lost. Her best-selling children's book series about Pearlie the Park Fairy are about to be made into a 52-part animated TV series. She was the host of the very recent ABC TV series Stuff.
Details of the dinner are:
Date: Wednesday 21 May 2008
Time: 7 pm
Venue: Commercial Club, Dean St, Albury
Cost: $27 includes 2-course meal
Tickets: available from Albury LibraryMuseum and Wodonga Library. Entry is by ticket only and tickets must be purchased by Friday 16 May.
For further enquiries and assistance with obtaining tickets, please contact Tim Eggleston at CSU Albury Campus Library.