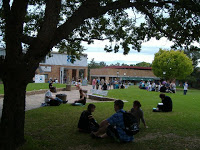 This week is Library and Information Week! This is a special week that occurs every year and is coordinated by the Australian Library and Information Association. Library and Information Week runs from the 19th to the 25th of May. The theme for 2008 is "Libraries are for everyone!" – so how do YOU use the Library?
Ebooks have become quite popular with our DE students, because they don't have to wait to receive books in the post. Quite a lot of our on campus students have figured out that they don't even need to get out of their chairs when they want a book. By borrowing one of the library laptops they can use our ebooks without having to move.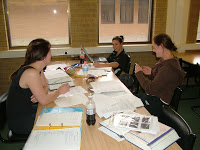 Increasing numbers of teaching staff are using the library to find current resources for the subjects they teach, you may very well have seen journal articles and databases linked into Interact. Not surprisingly, quite a few of our on campus students use the library for somewhere warm to come and have a nap. We know that there's never enough time in the day, so we're pretty relaxed on what you can do in the library. There are wireless internet hotspots in the libraries, so bring your laptop in, eat your lunch and catch up on what's happening on Facebook.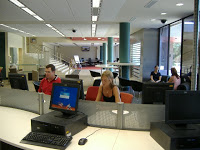 We've got a great selection of DVDs and videos, so why spend money when you can borrow from the CSU Library collection for free? No matter what is it that you use the Library for, whether you're an internal or external student, an on or off campus staff member the library has a huge team of Information and Liaison Librarians to provide assistance for anything library related. Just ask!
To enable us to give everyone the best service, you can contact us in many different ways:
No matter what your question is, we've always got an answer for you.