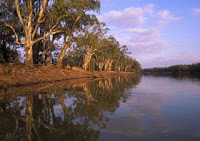 "A new scientific report warns parts of the lower Murray River may be beyond recovery without water by October.
"But the Rudd Government has deferred consideration of the report until a meeting of the Murray-Darling Ministerial Council in November.
"The report, prepared by a scientific panel and leaked to the ABC, warns there are six months to save crucial parts of the Murray-Darling Basin.
"Without sufficient water, ecosystem recovery may take years to decades and the unique ecology of the lower Murray will be irreversibly lost, it says." Read the rest of this article on The Age website.
The full report mentioned in this article is available from the ABC website.