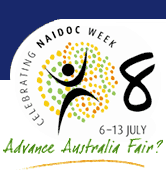 July 6 – 13, NAIDOC Week celebrations will be taking place all around Australia. During this time we celebrate the survival of Indigenous culture, and the Indigenous contribution to modern Australia.
Your local CSU Library has a large range of Aboriginal resources, and some fantastic Indigenous videos and DVDs which really highlight the unique & amazing culture of the Aboriginal people.
Here are just a small sample. Click on the 'Check Availability' link to request a copy.
For more information of NAIDOC Week, check out the NAIDOC Homepage.