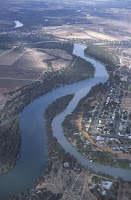 An ABC News article, this week, detailed the findings of a CSIRO report about forecast figures for the already struggling Murray-Darling.
"Water availability in the Murray-Darling could drop by almost half by 2030, according to a new report released by the Prime Minister today.

"Kevin Rudd announced the findings of the CSIRO report at the Hume Dam near Albury Wodonga with Climate Change Minister Penny Wong.

"The report says that by 2030 there could be 41 per cent less water available in the Murray-Darling and flows to the Lower Lakes near the mouth of the system could drop by almost 70 per cent."

You can read the rest of this news article on the ABC website.
The report mentioned in this article is 'Presentation of results from the Murray region, Murray-Darling Basin sustainable yields project' and can be downloaded from the CSIRO website. The following links also provide information related to the Murray-Darling sustainability issue:
Sustainable yields in the Murray-Darling Basin: This site features a number of interrelated reports detailing current and future water availability in the Murray-Darling, plus a wide range of reports about existing cap arrangements in the Basin