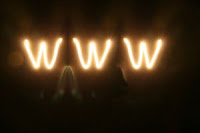 The latest edition of The Chronicle of Higher Education features "Researchers Rebuild Their Effort to Rebuild the Internet," an interesting article about efforts to develop a replacement for the Internet:
"Reinventing the Internet isn't easy. Researchers working on a federally supported effort to design a replacement recently had to go back to the drawing board. They now think the best way to do it is to try several "best ways" instead of searching for just one — and to invite help from social scientists rather than just self-described computer geeks. "The current global computer network, born at colleges and at corporate and military research laboratories, was never intended to grow as large and last as long as it has. Some think it's already heading for collapse, threatened by the growing problems of spam and electronic attacks. "That's a problem for colleges, which these days depend on high-speed networks for just about every aspect of campus life, such as supporting course Web sites, zapping research data around the globe, and managing administrative services. What's more, many of the best new ideas in consumer computing emerge in dorm rooms, as students create programs that sometimes become groundbreaking services. (The popular social network Facebook was created by a Harvard University undergraduate, for instance.)"
You can read the rest of this article on the Chronicle of Higher Education website.