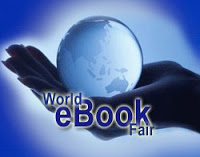 Have you dropped in to check out the World eBook Fair yet?
The third annual World eBook Fair welcomes you to a variety of eBooks unparalleled by any other source. Created by contributions from 100 plus eLibraries from all over the world, the fair offers you access to over 1 million eBooks available for online reading or downloading to either your computer or mobile device.
"Own your own Library" is the theme for this years fair. And you can do this without leaving your desk by searching online websites such as:
eBooks about everything
Project Gutenburg
World eBook fair
Internet archive
for your favourite books. But hurry as the fair ends on August 4.To get your library started visit the World eBook fair website.