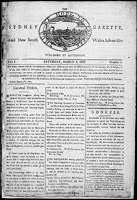 The National Library of Australia, in collaboration with the Australian State and Territory libraries, has commenced a program to digitise out of copyright newspapers.
On 25 July 2008 the Australian Newspapers Beta service was launched to the public. The Beta service contains 70,000 newspaper pages from 1803 onwards and additional pages are being added each week.
Approximately 3 million pages will be digitised over the next 4 years. These pages will cover a range of titles from every state and territory, from the earliest newspaper published in Australia in 1803 through to the mid 1950's. A further million pages from the Sydney Morning Herald 1831-1954 will also be digitised.
This is a a free online service that enables full-text searching of newspaper articles.