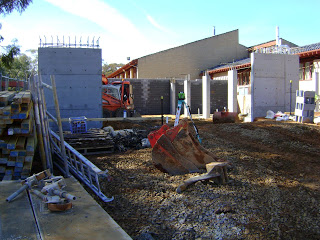 Work is under way on the Orange Learning Commons. The size of the existing Library will more than double when the Commons is completed in February 2009. The Commons will include a 24 hours area complete with computers, vending machines, informal seating and various study areas; an Assistive Technology room for students with a disability; consultation spaces for Student Services and Indigenous Support staff; a Parents' room plus the Library Collection. The Commons will contain a variety of individual and group study spaces including group study rooms and a Media Preview room.
The Commons building includes a ground floor which will be used for tutorial rooms for the next few years. At a later date the ground floor will be used for Library Collection and additional study spaces.
The image above shows the existing Library building in the background and the footprint of the new half of the Commons in the foreground.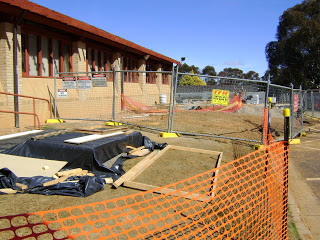 In late 2008 the Library will move into temporary accommodation to enable renovation of the existing Library space. This work includes the extension of the existing northern wall (
pictured)
to house study rooms and the Parents' room.
Please contact
Kerryn Amery
if you would like any further information about the Orange Learning Commons.