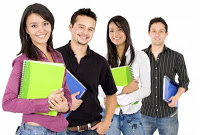 "An American lecturer believes he has found the secret of engaging the "MTV generation" who have an attention span of "minutes".

"James Dever, who presented an award-winning paper on making learning fun at a recent international Improving University Teaching conference, said that academics who failed to inject humour into their lectures risked losing students to the burgeoning world of online courses.

"He said that today's students were simply unable to sit through an hour's lecture unless tutors made them fun.

""I'm not talking about getting up there wearing a clown nose and funny shoes and telling jokes," he said. "We're not comedians. I don't tell jokes in the classroom. I'll talk about something funny that happened to me, I tell stories about my wife and my grandchildren."
Read the rest of this article on the Chronicle of Higher Education website.