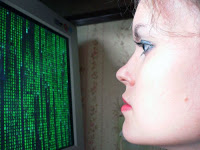 If this article is anything to go by, this sentence might be all you absorb from this post – this is a fascinating article from the Chronicle of Higher Education about how people read text on websites.
"When Jakob Nielsen, a Web researcher, tested 232 people for how they read pages on screens, a curious disposition emerged. Dubbed by The New York Times "the guru of Web page 'usability,'" Nielsen has gauged user habits and screen experiences for years, charting people's online navigations and aims, using eye-tracking tools to map how vision moves and rests. In this study, he found that people took in hundreds of pages "in a pattern that's very different from what you learned in school." It looks like a capital letter F. At the top, users read all the way across, but as they proceed their descent quickens and horizontal sight contracts, with a slowdown around the middle of the page. Near the bottom, eyes move almost vertically, the lower-right corner of the page largely ignored. It happens quickly, too. "F for fast," Nielsen wrote in a column. "That's how users read your precious content.""
You can read the full article on the Chronicle of Higher Education website.