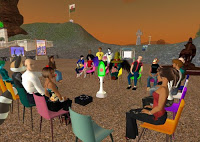 "Colleges that try to set limits on students' use of the Internet often misread their motivations and the meaning of online life for them. Much of what we fear when we see kids spending hours online is filtered through our own generational lens. What looks like plagiarism, slander, copyright infringement, and embarrassing public behavior is for many students just creative and social entertainment.
"Five key norms of the digital culture may explain how students think about technology and how we can help them manage it: Internet use as play; virtual identity as fictionalized personas; virtual socialization as a complement to live community; the global town square; and online community as a response to barriers to live interactions."
Read all about the 5 key digital norms in the rest of the article, which is available on the Chronicle of Higher Education website.