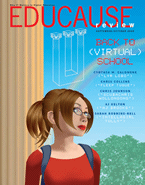 The current edition of EDUCAUSE Review – Volume 43, Number 5, September/October 2008, 'Back to (virtual) school' – looks at virtual worlds and the potential contribution they could make to education.

Articles in this issue include:
Virtual Worlds? "Outlook Good"
Higher Education as Virtual Conversation
Educational Frontiers: Learning in a Virtual World
Looking to the Future: Higher Education in the Metaverse
Drawing a Roadmap: Barriers and Challenges to Designing the Ideal Virtual World for Higher Education
You can access this issue from the EDUCAUSE Review website.