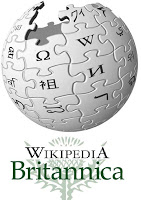 Encyclopedia Britanica has been the definitive source of information for 240 years; steeped in academic lore, and widely considered to be the patriarch of the library.
Wikipedia is a free, open-content encyclopedia project, which has taken the world by storm in less than a decade. It provides instant gratification for information seekers, created by and for it's users. Wikipedia is the 8th most visited site worldwide, and is closing the gap between itself and Internet mega-powers Youtube, Facebook & Google.
So exactly how does Encyclopedia Britanica stay afloat in the Web 2.0 generation? By joining it of course! But with a few subtle differences which ensure that Encyclopedia Britanica stays a premium product; rather than a magnet for e-vandalism, or a source of unreferenced "information".
The E-Commerce Times outlines how Encyclopedia Britanica are fighting to regain the attention of the 'world-at-their-fingertips' crowd by inviting selected 'qualified scholars' to be involved in the creation, and maintenance of it's knowledge base.
To read the article and find out more about Encyclopedia Britanica's Webshare project, click here.