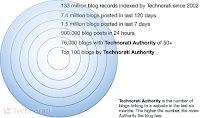 Technorati, a leading blog search engine, has compiled their 2008 'State of the Blogosphere' report and is publishing the results in five consecutive daily segments.
"Since 2004, our annual study has unearthed and analyzed the trends and themes of blogging, but for the 2008 study, we resolved to go beyond the numbers of the Technorati Index to deliver even deeper insights into the blogging mind. For the first time, we surveyed bloggers directly about the role of blogging in their lives, the tools, time, and resources used to produce their blogs, and how blogging has impacted them personally, professionally, and financially."
The first three parts are currently available on their website, but stay tuned for the next two parts to be published over the next couple of days.
Another interesting read focused on blogs is Margaret Simon's 'Towards a taxonomy of blogs', a commentary on the need for a new vocabularly for discussing and defining blogs and their place in the current online environment.
"We need new words. To draw an analogy, both Hello and The Monthly are magazines, but knowing that is hardly enough to decide whether or not you might be interested in reading them. For that we need more information, and more differentiation.

"I think the need for new vocabulary is becoming urgent. Last month I took part in many anguished discussions in various forums in the wake of the redundancy announcements at Fairfax, and all the resulting worry about the future of serious journalism in this country. The question was asked – is blogging one of the hopes of the future?"
'Towards a taxonomy of blogs' is available on Creative Economy Online.