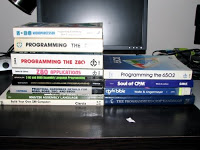 This article, recently featured on the Inside Higher Ed website, looks at the belief that it will 'only be a matter of time before electronic textbooks become the norm' in universities.
"Some campuses in particular may already be getting a glimpse of the future through partnerships with individual publishers or with consortiums.

"Such deals tend to offer students a choice in addition to their current options in the hope that they'll opt for the cheaper alternative. In contrast to that model, and through a partnership with the publisher John Wiley & Sons, an experiment soon to be underway at the University of Texas at Austin will shift certain classes entirely to e-textbooks.

"Beginning next semester, for the initial pilot phase of one to two years, the university will cover the electronic materials for the approximately 1,000 students enrolled in a handful of courses in largely quantitative subjects such as biochemistry and accounting. By purchasing in bulk on a subscription model, the university initially hoped for a "per student per book" cost of $25 to $45. (Wiley hasn't publicized a final price range, so it's unclear whether it will be that low.) The idea of the "beta test," as the university dubs it, is to see how students and faculty respond to e-textbooks and to decide whether they could be deployed on a larger scale."
You can read the rest of this article on the Inside Higher Ed website.