The Library team moved out of the old Library on 23 November. The builders moved in the very next day and began demolishing internal walls and one external wall. The latest issue of LibraryNews contains plans of the existing Library and the new Learning Commons.
The new building also includes a lower floor (not shown in the plan) which will be initially used for classrooms but eventually will become part of the Learning Commons to accommodate Library collection growth, additional quiet study spaces and an area for Research students. A lift and staircase will connect the two floors.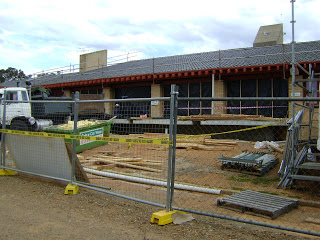 This photograph shows the old Library. Most of the external walls have been removed. Concrete pads are in place for the building of the group discussion rooms and Parents' room which will jutt out beyond the existing line of the external wall.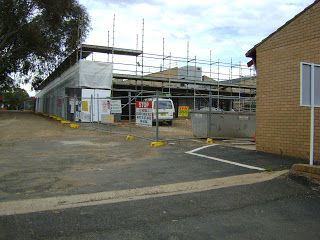 The second photograph shows the rear of the new part of the Learning Commons. It shows the lower floor of the building which will initially be used for teaching.. The upper floor will accommodate collection, a range of quiet and group study spaces, staff offices, the lift and stairs, staffroom and videoconference facilities.
The new Learning Commons, if all goes to plan, should be open for business in April 2009.
Please contact Kerryn Amery if you want to know about the Learning Commons project.