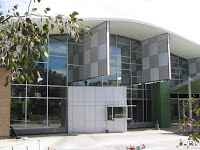 The new Thurgoona Learning Commons opens in February 2009 and will be fully functioning by Orientation Week. Most of the Library staff and collection will be housed in the Learning Commons.
The Thurgoona Learning Commons will house the Library Services and offer IT, Student Services and Indigenous Support. It also features 24-hour computer access, assistive technology, multimedia room, and lounge and study spaces. A coffee house is also located next door.
In 2009 the Albury Library will remain open at reduced opening hours during teaching periods and house a core collection of health-related resources. In 2010 the Albury Library will fully integrate into the Thurgoona Learning Commons when all Albury staff and students move to Thurgoona.
The Albury Library will house a core collection of health books covering Nursing, Occupational Therapy, Physiotherapy, Podiatry and Speech Pathology, plus a Closed Reserve collection. It will also have photocopiers, computers, printers and a scanner, plus group and individual study spaces.
Information services will be available through online facilities or via a dedicated telephone. Books located at any campus can be requested through the Library Catalogue and picked up at the Albury campus.
The Library anticipates moving in the next couple of weeks. More information about how this will affect library services will be made available shortly.