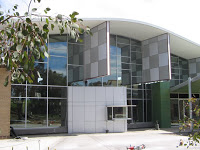 Thurgoona Library's move into the Learning Commons begins next week!
It will be conducted in two stages, with the Thurgoona Library closing from Tuesday 27th January and Albury Library from Friday 30th January.
It is anticipated that the Albury Library and Thurgoona Learning Commons will be open from Monday 9th February. However, access to the collection in the Learning Commons will depend upon the successful integration of the two collections.
The Albury Library will remain open throughout 2009 to service the Albury staff and students. It will house a core collection of health books and will operate on reduced hours.
During the libraries relocation the following services will be available: Book Returns Books can be returned to the Library contact point on the Ground floor of the Gordon Beavan Building or to the Albury Library after hours chute.
Intercampus Loans
Intercampus loans can be collected after 9 February from the Thurgoona Learning Commons or from the Albury Library.
Book Renewals
Renew your books through My Library Record or call 1800 808 369.
InterLibrary Loans
Interlibrary loans for staff and postgraduate students will be sent through the internal mail to personal offices.
For any further information please contact Jula Ryder, Access Manager for Albury and Thurgoona campus libraries on 02 6020 9705.