Ever searched the CSU Library Catalogue only to realise that every book that you wanted is already on loan? Need to get your hands on that book ASAP, without travelling half-way across the country? Sick and tired of your friends trying to ruin the ending of Harry Potter & The Deathly Hallows?
WorldCat is the solution. WorldCat searches library catalogues all over the world, and shows you who has the book, how far away they are from your location, links you to that library's help services, exports citations to your EndNote library, allows you to share your thoughts on the book, and you can experience all this catalogue-searching-fun on your mobile phone. The only thing it doesn't do is give you a backrub after a long day at work (but find me a website that does, and I'll gladly recommend it too!)
So how do you use WorldCat I hear you ask? It's simple!
1. Just type the title of the book you're after in the search box, and click Search!


2. Select the correct item from the list or results
3. Enter your postcode (if it's not automatically displayed) and be amazed at the power and accuracy of WorldCat.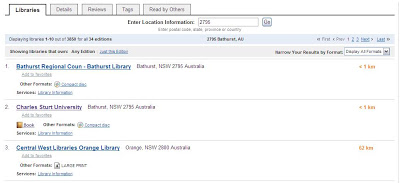 4. Click on the location of a library near you to see if the item is on the shelf.
5. Have fun reading!