Here is a selection of some of the reputable information sources available through your CSU Library. You can access them from the Online Reference page on the Library's website.
ABS – Australian Bureau of Statistics

Outstanding site providing access to statistics on virtually every aspect of Australian society including:
– 2006 census data
– key national indicators
– environmental statistics
– population data
– consumer price index
– national accounts
– labour force data.

Encyclopedia Britannica Online Academic Edition
Britannica Online includes the full encyclopedia; country information and comparative statistics; a comprehensive dictionary and thesaurus; a multimedia database of thousands of images, illustrations and sound files; world atlas; audio and video clips; and access to articles from journals (drawn from ProQuest and EBSCO) Also included are the fulll text of top news stories from the New York Times, BBC and SBS.
Europa World
Outstanding resource providing comprehensive country profiles including:
– country statistics and comparative statistics
– facts; languages, religion, economy, public holidays, maps, flag, etc
– extensive information on government, politics, judical system, society, media business and commerce.
Information obtained from Europa World is recognised as reputable and can be cited with confidence for essays and assignments.
Oxford Reference Online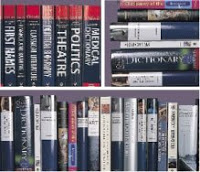 contains over 100 dictionary, language reference, and subject reference works published by Oxford University Press. It is a fully-indexed, cross-searchable database of these books, giving subscribers unprecedented access to a comprehensive information resource.
OED – Oxford English Dictionary Online
The unsurpassed guide to the meaning, history, and pronunciation of over half a million words, both present and past. It traces the usage of words through 2.5 million quotations from a wide range of international English language sources, from classic literature and specialist periodicals to film scripts and cookery books.
Kompass


An international database listing the information of companyies that participate in business to business commerce.
Ulrich's Periodicals Directory


An authoritative source of bibliographic and publisher information on more than 300,000 periodicals of all types. Use Ulrich's to confirm that you are using scholarly or peer reviewed journals.