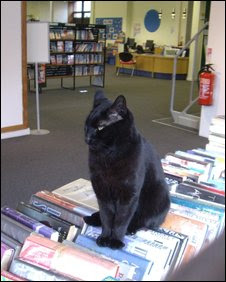 Fidel the eight-year old black cat, turns up at Deal Library in Kent almost everyday while his owners are at work, BBC reports.
He spends the day on his favourite blue chair, only leaving the building when he sees his owners arriving home.
A spokeswoman for Kent County Council which runs the library said Fidel was such a "dedicated customer" that he sometimes arrived before staff and could be found waiting at the front door.
My sources indicate that some of Fidel's favourites are Cranky Paws, The Cat in the Hat Comes Back, and draws inspiration from Dewey: The Small-Town Library Cat Who Touched The World.